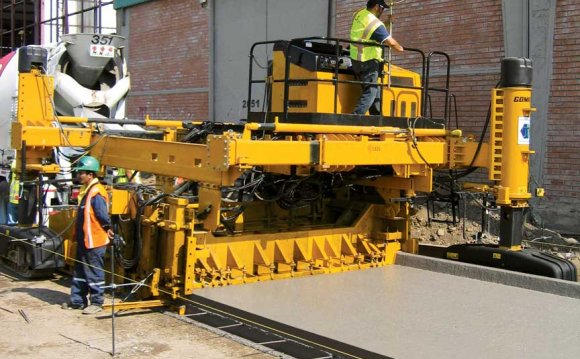 The GT-3200 Sidewalk Paver was created from the need for high-volume sidewalk replacement in several regions of Canada. The versatility designed into this device includes a trimmer to get ready the level or an aggregate mildew to put the beds base. The target with this item was to design a slipform paver, with our zero approval expertise to work in a sidewalk lane alongside trees, energy poles, alongside hurdles. The long, pivoting and folding conveyor enables constant paving although the floor person manipulates the conveyor around hurdles to get concrete from ready-mix trucks regarding nearby roadway. All-Track Steering (ATS) ended up being added to this device as a choice for improved steering and job-site transportation.

This sidewalk ended up being slipformed by a GT-3200 sidewalk paver within a preexisting residential location. The paver's minimum clearance allowed for large production on this sidewalk replacement project.

G+® is now technology that draws every little thing together…
This is the center that Connects most of the resources.

When you encounter G+ settings, you won't be happy with anything else. It's a control system that is both an easy task to learn and simple to work. G+ expresses itself in straightforward worldwide icons and complete script explanations. It works in every the major languages of the world and in imperial and/or metric quantity system. It offers a lightning-fast processing rate and features two-way communications between paver add-ons and G+. Its instant digital feedback combined with tight closed-loop electric and hydraulic control creates a G+ paving experience which smooth, efficient, and accurate. There's nothing available that can compare, because G+ is a proprietary system created by our in-house control experts based on everything we discovered from many years of experience in the field and from everything we discovered away from you, our consumer.

- Machine Setup and procedure tend to be Easy
- Machine Response is Faster
- Troubleshooting is Pinpointed, Quicker, and simpler

The unique GOMACO G+ control system functions self-diagnostics for grade and steering. It features brand-new and easy-to-operate hardware with steering and vacation dials. The level jog buttons, situated to the left of display screen, are accustomed to by hand change the height regarding the knee if the control loop is set to manual mode. The steering jog buttons, situated above the screen, are acclimatized to manually replace the steer path of this knee once the control cycle is within the manual mode.

A-flat 165 millimeter (6.5 inch) anti-glare screen receives sensor-controlled backlight amounts for exceptional exposure in every operating problems. The display is tough and shock resistant in its building to safeguard against dirt, dampness, and rainfall. G+ provides a full shade screen in the control board to show the many areas of the paver for set-up and procedure. A "run" display on control panel illustrates the various aspects of the paver. It provides knee position, paving rate and percentage of drive, steering, travel information, class information and deviation meters, and more. Recently created icons and color layouts ensure it is easy to understand and simple to determine the specific features. G+ controls feature a detailed fault history utilizing the time stamp, time, and information to track when each fault occurred. GOMACO's G+ control system has been shown worldwide.
Source: www.gomaco.com
Share this Post