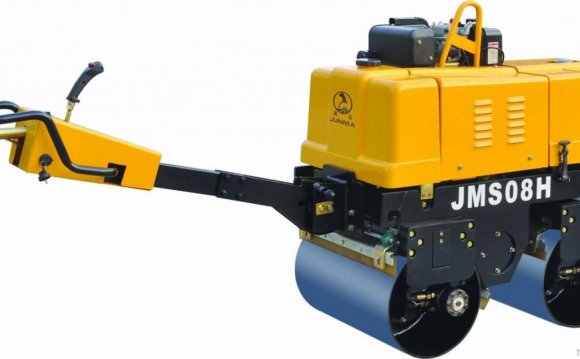 The PavinPro HS67ST Walk-Behind Vibratory Roller from SAKAI is the ideal choice for any small to medium sized asphalt or soil compaction jobs. The gas powered 13 h.p. engine, hydraulic motor-driven drum, 1500 lb. operating weight and up-to-the-edge compaction make the SAKAI HS67ST the best walk-behind vibratory roller available in the Philadelphia area.
The HS67ST features hydraulic power steering, enabling steering with the touch of a button, which operates a steerable front drum. This steerable front drum allows for a significant reduction in scuffed asphalt that is common among fixed frame units. Portability is also critical for units of this size.
Heavy Duty, Easy to Control and Use Walk-Behind Vibratory Roller
The control handle of the HS67ST can lift into a locking position to allow for a more compact transport. A large water tank and an external vibratory mechanism that allows for easy maintenance also make this model extremely easy to use and service. In addition to ease of use, the HS67ST features a heavy duty, hardened steel frame and a safety cut-off bumper pad, making for an extremely durable and effective piece of machinery.
All of these excellent features offered from SAKAI makes the HS67ST one of the best asphalt rollers on the market.
HS67ST Asphalt Roller Features
Up-to-the-edge compaction
Hydraulic motor-driven drums
1, 500 lb. operating weight
3, 090 to 3, 300 VPM with 7, 150 to 9, 350 lb. dynamic force
13 h.p. engine
2.2 mph travel speed
25 in. drum width
Gas powered engine
HS67ST Asphalt Roller Specifications
Drum
Size
25 x 14 ins | 635 x 355 mm
Compaction
Width
25 ins | 635 mm
Weight
1, 655 lbs | 750 Kg
Vibration
Frequency
3, 300 VPM | 55 Hz
Centrifugal Force
2, 655 lbs* | 11.8 kN
Amplitude
N/A | N/A
Engine
Make & Model
Honda GX390U1
Horsepower
6.44 hp | 4.8 kW
Capacity
Fuel
1.3 gal | 4.8 lit
Sprinkler
Source: www.norrissales.com
Share this Post